So after a
long
day of work, I ran by WalMart for some groceries and while I was there, I picked up a few beauty products! And I'm so happy with my choices!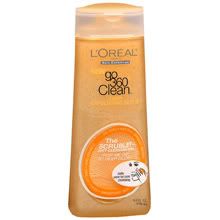 L'Oreal Skin Expertise Go 360 Clean Deep Exfoliating Scrub
I saw a few blog posts on this new face wash [for quite awhile I actually thought it was a body wash! Silly me!] and wanted to try it out. I've been sticking with
Neutrogena
face washes for years now, so trying something new it scary. The $6 price tag wasn't horrible, especially compared to some Neutrogena products I'm buying. When I got home, I went to wash my face and this is so fun! It makes me excited about washing my face at night, which I'm
SO
bad about doing. The scrubber pops out, leaving a small hole in the middle of the bottle. It's soft and flexible and really not irritating to the skin! I bought the exfoliating scrub, but they have variations, including a cream cleanser and a sensitive skin cleanser. I
really
enjoyed this product and love it!
N.Y.C. Blushable Creme Stick in 645U Big Apple Blush
So I have heard
Emily [Beauty Broadcast]
mention this blush before and seen people picking it up and loving it all over her Facebook page so I grabbed one. It was less than $4 and I was a little weary. I do have a convertible color by
Stila
in a palette that I'm iffy on. But I really like this blush! It goes on SO amazingly easy! This is the perfect travel blush, purse blush, or even everyday blush! This is DEFINITELY going to be used by me MANY more times. I wish there was a bit more color selection. I might go back and get the berry color one day, but I like this one :]
N.Y.C. Ultra Last Lipwear in 405B Blue Rose
So after purchasing the
Milani Glitzy Glamour Gloss in Fashion Diva
and loved the bright pink color, I wanted a similar lipstick just for a more long-lasting wear. And I feel that this Blue Rose N.Y.C. lipstick is pretty similar, and for just under $2, you can't really beat that! Definitely a favorite new lipcolor. I NEVER would have worn something like this years ago, but I think it's such a fun color with a neutral lid and fun colorful outfit. Such a fun buy! I bought my Milani lipgloss at CVS the other day for about $7.
N.Y.C. Ultra Moist Lipwear in 319B Violet Shine
What a great lipstick for under $1! I am SO buying more N.Y.C. lipsticks. While this would not be an everyday lipstick [I'd go with
Maybelline
or
Rimmel
for that since they are quite moisturizing] it is great for trying out a new color without putting lots of money down. The image I posted does not really truly reflect the Violet Shine color. I would describe it as more of a pink color...it seems really dark in that image. More of a pinky nude in person.
So I really like my new items. I'm trying to not go overboard on purchasing makeup, since I do have quite a bit. But new things and great deals seem to cause me to stray from this rule!
And I just had one of the yummiest late-night snacks. Sugar snow peas [so crunchy] and a delicious pineapple, mango, and peach smoothie [homemade with
V8 VFusion in Peach Mango
] Delicious! Such a good treat!
Photos from walgreens.com, cvs.com, and newyorkcolor.com