Wow, it's been quite a while since I've updating this blog, huh? I am so sorry! I do not want to ignore my blog, I happen to love it! It's just been hard finding things to write about due to school starting and I've been
very
busy. Moving on...
Tonight I rented Julie & Julia from Redbox and had a little pamper night for myself. I ended up purchasing a few more nail polishes than I meant to, but I really enjoy what I got. I purchased
Sally Hansen Insta-Dri Fast Dry Nail Color in 26 - Lively Lilac
and
ORLY Top 2 Bottom Basecoat & Topcoat All-In-One
at
CVS
. I also purchased some cute nail stickers I had to talk myself into buying. They were costly at $6, but knowing I'll only wear two per manicure, they will last me quite a while. I was also on the search for pure glycerin [which I still have yet to find] for taking my mineral eyeshadows and putting those into pans in a palette. So I drove across the street to
Walgreens
and they did not have any either. But I saw
Wet n Wild Megalast Nail Color in 206B - Undercover
which is a great nailpolish for the fall and also for my cute dress I plan on wearing Saturday. And the price was FANTASTIC! So while waiting in line to check out, I glance and see that Revlon polishes are on sale for $2.99 so even though it doesn't work well for fall, I grabbed
Revlon Nail Enamel in 85 - Minted
and the lady at checkout said that a second one would be half price so I got
903 - Hot for Chocolate
for $1.50! So five nailpolishes in a day. Not planned!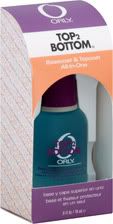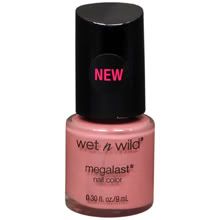 I got home and popped in my DVD and started my manicure. I started by soaking my hands in warm water with some liquid soap in it for 5 minutes, then drying and applying some lotion. After that I exfoliated with a mixture of olive oil and sugar [which I made WAY too much of so I exfoliated my lips too...I have enough to probably exfoliate my body LOL!] and then applied some moisturizer [I just used the same moisturizer I use on my face] and of course pushed back my cuticles. Base coat, two coats of polish, sticker, and a top coat and I love my manicure! It was amazing how the beforehand steps REALLY helped my manicure look fantastic! Taking the time to do that was well worth it!